Mamarazzi is seriously one of my favorite bloggers of ALL time.
(that kinda sounded like a Kanye moment, huh?)
Well, if Mamarazzi was up for a VMA & someone else won,
I'd totally pull a Kanye West. Seriously.
Anyways, since she's is awesome & has awesome link ups,
I'm almost always linking up over there.
And today is time for another link up!
My Weekend Happy List!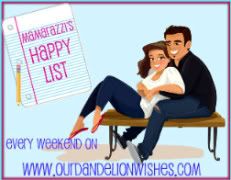 First of all, it's the weekend! Which is reason enough to be happy :)
But here are some other things that are making me smile this weekend....
NYC Nail Polish: i love NYC Nail Polish. It's seriously my favorite brand. It's cheap & long lasting. That is my kind of perfect. I just got 3 new NYC brand colors that I can't wait to use!
Ward Conference Weekend: This weekend is my ward's conference! Which means conference dinner tonight! The RS is going to be dancing to Cupid's Shuffle, which I'm not too keen about though. I love the song, but not for RS.
The Last Song: I'm currently reading this book for my book review blog and I love it! I fell in love with the movie (and cried and cried while watching it), so I of course had to read the book. Plus, I'm kinda obsessed with Miley Cyrus. She's a bad influence on little kids, but IDK I sorta love her.
Speak Now by Taylor Swift: I don't think anyone on here understands my love for T. Swizzle. Seriously, if I knew Tay in real life, we'd totally be BFFL!
Awesome Bloggy Friends!: I feel like I've gotten to know so many of you by reading your blogs, and the awesome comments that you send me. I love all of your comments & I do take the time to read them (uhm...almost obsessively) and I always try to respond!
The way this tie turned out!: I was seriously having major issues with this tie when I first started to make it. Like, I wanted to throw my sewing machine out the window & toss in the towel on sewing forever. But after coming back to it with a clear mind, I finished it and I love it! I guess that just goes to show that persistance and patience really pays off! Plus I know Elder M. will love it!
My birthday is in two days! It's so funny, I'm unusually calm about this birthday. Usually, I have a countdown going on facebook from January 1st, but this year I didn't count down at all. I'm excited for my birthday, of course, but I'm just really calm about it. Does this mean I'm geting old?! Haha ;P
those are my weekend happies!


what's on your happy list?