I found a new linky party! And it seemed really fun & interesting, so I have to link up, of course.
You can too. Head on over to Nicole's blog to check out Thursday 5!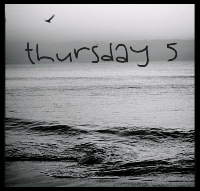 Blessed
Incredible
Happy
Today, I'm feeling blessed because of the wonderful people that I have in my life. My friends are awesome, my family is amazing & I love them.
I think that the miracle of life is incredible. My cousin is about to give birth to her first little one (it's a boy!) and she is absolutely glowing. She looks like she's about ready to pop, but I can't wait to meet her little one!
I was extremely
productive
today! Well, kind of. I finished my astronomy hw for the week & worked on my psychology 100 & dev. psychology outlines. Plus, I caught up on all of my blog readings :)
I am really looking forward to the future. Everything just seems to be looking up, and I really can't wait. I guess you can say that I'm pretty
elated
about things to come!
Happy doesn't even begin to describe how I've been feeling lately. There have just been all around positive feelings around here and I love it!
What about you?