Are you looking for more followers? Are you the type of person who loves blog hops and linky partays like me? Are you looking for more awesome blogs to follow?
If so, you should totally link up with BlogHopPalooza! It's an awesome way to meet some lovely bloggers and to promote your blog. And the linky party lasts for the entire month of January! How awesome is that?!
If you want to link up, just head on over to any one of 5 hostesses blogs. The rules are all right there and we're just waiting for you to join in on the fun!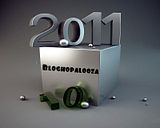 Our 5 Lovely Hostesses