Yay! It's Friday! Well, actually it's 8:30pm here in Hawaii, but whatever. Let's just play pretend for a little while. And while we are pretending, why don't you go on over to Lauren's blog and link up for Fill In The Blank Friday. This weeks questions are all Christmasy and awesome. Speaking of Christmas, can you believe that it's only in a week?! I haven't even gotten my letter to Santa yet! :P
1. Giving is
awesome! i know that it's cliche to say that giving is better than receiving, but it's true. and for me, giving doesn't just mean giving material gifts. in my opinion, giving also means time. time is the most precious gift that you can give. giving, especially your time, is the most awesome gift that you can give! That's why "Gift" sounds so much like "Give". I mean you don't call a gift a "receive" or something sounds close to that. You call it a gift because it's the giving that counts
.
2. Receiving is
nice. Christmas isn't much of a big deal to me anymore though. At Christmas, I'd rather spend my day relaxing, watching Christmas movies on TV, eating dinner with my family and playing with the toys that my cousins and baby brother get. Christmas should just be about spending time (oh, there's that time thing again) with your family. Now birthdays on the other hand, that's when I like to be pampered!
.
3. The best gift I ever received was
my grandpa's chain and pendant. I got it in after he passed away, which was of course really hard for me since he was pretty much my dad. But he wore it pretty much every single day for 16 years (we'll get to that later) and it meant a lot to him and me. I can't wait to be able to pass that on to my son one day

.
4. The best gift I ever gave was
When I was one, I gave my grandpa his chain and pendant for Father's Day. Both are gold and the pendant is the Hawaiian crest. He wore it every single day of his life since I gave it to him. I got it back on the day that he passed away. He wore it for 16 years and for me, it was just a sign that he loved me. One day, I will pass it on to my son and I hope that he'll cherish it as much as I do
.
5. Something intangible that I wish I could receive is
awesome crafting skills. I so wish that I could sew and had amazing crafting ideas all the time .
6. Something intangible that I wish I could give is
happiness. I believe everyone deserves happiness

.
7. The one gift I always wanted as a child, but never got was
an American Girl doll! Don't worry, that's still on my list. I will get it one day!
.
---
OK, Now it's really Friday and I completely forgot about 5 Question Friday over at Mama M's blog Five Crooked Halos. So that's what you're getting now!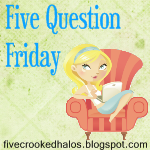 1. Do you
regift
...and if so, do you have a
regifting
horror story?
I do not regift. I don't know, I find regifting mean and rude. It's just not the way I roll.
2. Do you know what you are getting for Christmas this year?
No. In fact, I will probably get nothing for Christmas since we're struggling with the whole money thing (aren't we all?). Also, I guess I kind of got a gift already since we joined the
Disney Vacation Club
when we were on vacation and my grandma is paying for my school.
I mean, I'd really like to get a Christmas present, but whatever. I can deal. Besides, my birthday is a month after Christmas!
3. Who brings the most gifts in your family, you or Santa?
Growing up, Santa and the gifts from the family were pretty much equal. When I have Christmas with my family, though, I want to make sure that the kids get just one "big" present from Santa (like a Tonka Truck or a Doll), some stocking Stuffers from Santa and the rest from the family.
I mean, I always thought it was weird how we'd get a lot of things from Santa. Like "Really does he have time to MAKE us like 5 presents?!" IDK, I was a weird kid.
4. What store do you love to by jeans from?
Uhm...Ross. Haha, I don't buy jeans from any other place, actually.
5. Christmas meal: Big, All Out Meal or Snacks and Apps?
Big Meal! With the Snacks and stuff in between. The holidays are my excuse to eat all I want, okay?
OK, Now I'm done!
Have a wonderful weekend, loves!


P.S. I'll probably be back for a second Friday entry a little later on. Today is an important day! You'll know why later :P