Happy, Happy Wednesday everyone! I can't believe that in just two days, it's going to be 2011! I have a feeling that 2011 is going to be one of my best years ever. And usually my feelings are pretty accurate.

The last few days have been spent cleaning my room and moving things around in preparation for the New Year! In the next few days I'll also have some excellent blog posts recapping 2010 as well. But as for right now, how about I just recap my Christmas? mmkay, here goes!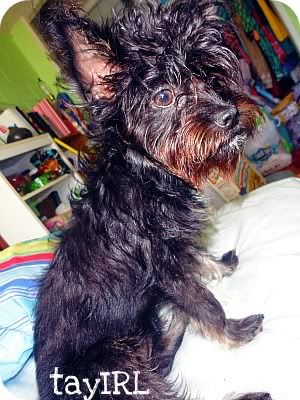 The miss lady luvs on christmas eve! She's so photogenic, it kills me!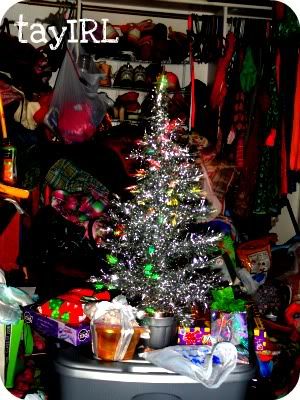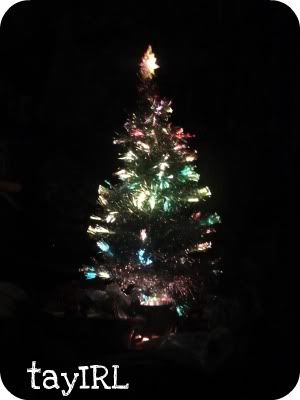 The Christmas trees that I set up in my room. The first is with the light on, and yeah I know my room was a crazy mess! And the second is with the lights off and the fiber optics on. I love my mini Christmas tree. I've had it since I was in high school and it was always present in my dorm room around Christmas time, my friends and I even put Christmas presents under it pre-Christmas vacation!
My two pups on Christmas morning. Merlin and Lady Luvs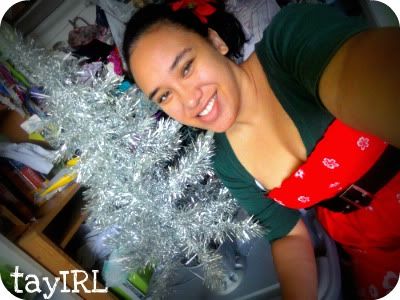 Yeah, I tried to at least take a decent Christmas picture, plus I loved my outfit that day :)
Christmas presents! Jewel=Awesome. Elvis=the KING, enough said. George Strait=my dream guy, really!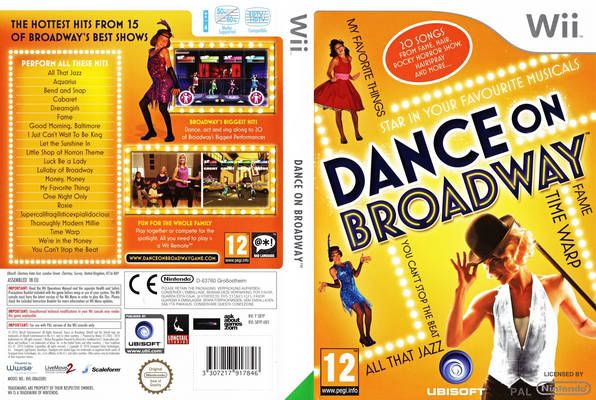 I got Dance on Broadway for Wii! It's pretty intense, haha. I love it though. I'm also going to get Just Dance 2 and Zumba for Wii. I'll review them too, later, maybe even with a video of me making a fool of myself dancing to Bend and Snap!
And for my number one present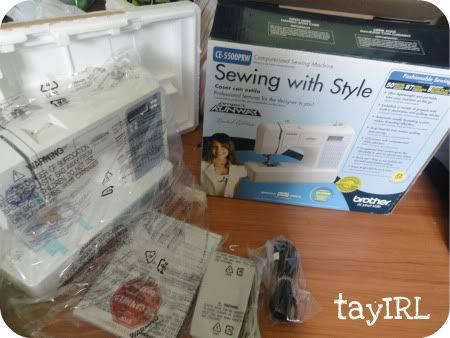 My sewing machine! I've been dying for one for a while and I assumed that I was just going to get the own my family owns (which I was totally content with), instead my grandma surprised me with a brand spanking new one! And it's a Limited Edition Project Runway one and it comes with 50 built in stitches and it has an LCD screen. Yeah, I'm pretty much in love with it.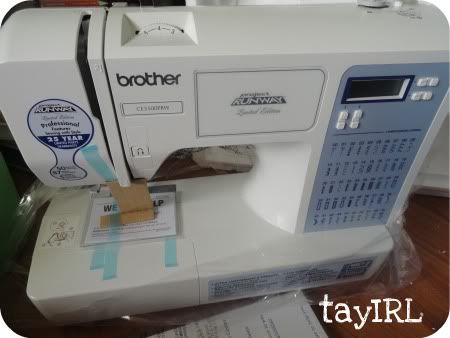 Here's my baby in all her glory! I also got a few yards of fabric, two easy patterns, an easy sew apron and pillowcase kit, a sewing essentials kit and some quilting scraps so I can start of easily with a blanket. Yeah, I've never really sewn at all before, so this is going to be INTERESTING. But I'm really optimistic about it, soo...
I got another present that I didn't really expect, it was truly a nice surprise. Remember how I told y'all that I got to witness my two friends getting engaged? Well...
She asked me to be one of her bridesmaids!! I'm so excited it's crazy! This is the first time that I'm going to be a bridesmaid for someone other than family, so it makes me even more excited for all the upcoming Weddings!!
I'm most excited about helping her figure out all the little details and stuff. I already have way too many ideas for my own good :)
At least I now have a justified reason to look at wedding sites and blogs :)