Howdy y'all,
When I was in Vegas last week, there was a Rodeo going on hosted by the MGM Grand which is also where we stayed. Imagine my immense joy when I found out that there would be loads of cutie cowboys roaming around for a week and also when I found out that they'd only be playing country music for a week. Well, I was mighty happy. I was so happy, in fact, that I started speaking with a "country" accent. This also happened when we had our layover in Texas. Yep, I do that pretty often. In fact, the voice in my head is reading this in a country accent right now.
In case you couldn't tell from that paragraph, this is going to be a random entry of random stuff that y'all need to know. So stick with me. I know we can get through this.
Now, for our first order of business I need to let you guys know that I will be starting my reading goal that I talked about a few entries back tomorrow. If you don't remember, you can check out the post here, and you can even check out my reading list. I also started up a new blog, which will focus only on my reading goal. It'll include personal book reviews, information on how my goal is going, and I'm even hoping to start a virtual book club with some guests and linky parties there in the new year. You can check me out over at TayIRLReads.blogspot.com.

And don't worry, I'm not abandoning this blog! The whole point of having the two separate blogs is so that I can blog regularly here and do all my bookish things there!
Now it's time for the Appreciation part of this random post. I have a few lovely ladies that need thanking.

First, have you noticed this awesome new blog design? Well, I owe a big huge thank you to Julie over at Leelou Blogs. The blog design that I have is one of her many free, pre-made ones, but I wish I had the money to pay her to make me a personal design (Dear Santa, can you please give me money for that). Her designs are beautiful and I'm sure they take a lot of time to make, and she still provides so many of them free of charge. So, if you're thinking of giving your blog a makeover, I would recommend Julie!
My second big, huge Appreciation cyber hug goes to Stephanie! She just made an appreciation post for all of her followers and I just wanted to thank her for mentioning me. So thank youuu!!! Steph is super awesome. Her post about the day zero project actually inspired me to make one of my own. So it's her fault that I'm forcing myself to read like a bazillion books. :P. No, but really, her blog is great and you should really go and check her out! Thank you again for your nice words and also for following me, Steph! You are awesome!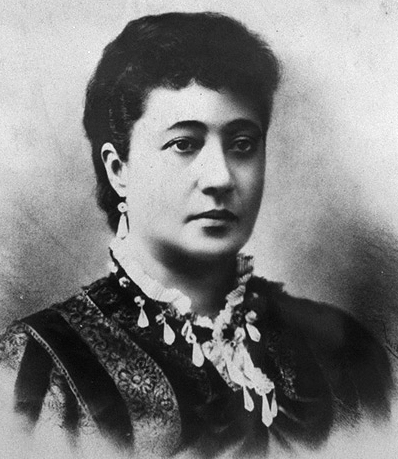 And last, but certainly not least, I wanted to honor an incredible woman. Though I have never met her, she has truly influenced my life in a way that no other person has. She has given me one of the most priceless gifts that I could ever imagine and I love her and appreciate her for it. (Warning: I will probably start typing in Hawaiian now...) Mahalo nui loa e Ke Ali'i Pauahi Bishop. Thank you for all that you have done for me. Thank you for all that you have done for the children of Hawai'i. Without you and your legacy, I would not have had the opportunity to graduate from Kamehameha, nor would I have the job that I have. I am grateful for the opportunities you have given me and the doors you have opened for me. I can only hope to one day be as amazing a woman as you were. I can only hope that I will one day be able to leave my own legacy on the children of Hawai'i. Thank you, Pauahi.
For those of you who may not know, Bernice Pauahi Bishop was the founder of Kamehameha Schools. It's a private K-12 school in Hawaii with campuses on three islands (Maui, Big Island and Oahu) as well as over 30 Pre-schools statewide. Pauahi was the granddaughter of King Kamehameha I, which is why the school was named after him. After Kamehameha V, the last of the Kamehameha Dynasty, passed away, Pauahi was next in line for the throne, but she gave it up so that she could better help the people of Hawai'i. During her lifetime, Pauahi had a great love for her people. In her will, she left her estate and money to her trustees asking them to build a school for Hawaiian children. And that's how Kamehameha Schools was founded. We can have a more in depth Hawaiian History lesson later :P
I was lucky enough to attend for high school, and I actually worked at one of the pre schools on the big island, and I am still a substitute there. Every year around her birthday, December 19, we celebrate her, her life and legacy and all she has done for us. So Hau'oli La Hanau e Pauahi!
Well, I guess that's all.
Please don't forget to go and check out my new book blog! I'll be starting my first book, Memoirs of A Geisha tomorrow!