Welcome all to my very first themed blog entry. Let me explain a little about 'Lost In Thought Sunday.' Originally, I was going to call it Spiritual Sunday and I was going to share ideas, feelings, and talks from church. But I thought about it and realized that people don't necessarily want or need to hear my opinion about spiritual matters. Regardless, Sundays are still my most thoughtful and reflective days. Sunday is pretty much the only day that I can sit and really think about everything that happened. Which is why I decided to make the theme Lost In Thought. There will be some days where I'm feeling super spiritual and I'll want to talk about that, and there will be some days where I just want to talk about some world issue that has been on my mind. This way, I'm not just limited to spiritual things on Sundays.
For my first LiTS blog, I wanted to wish someone very, very important to me a very Happy Birthday!
Happy 65th Birthday Papa!
Today would have been IS my Grandpa's 65th birthday and I am sure that he is having a wonderful party up there in heaven with his parents and sisters, as well as other loved ones that aren't here on earth anymore.
Let me just tell you a little bit about my Papa. If you met him, I'm sure that you'd love him. Everyone did. He is loving and kind and always did things for people when asked. He raised my from the time that I was a baby and passed away about a month and a half short of my 18th birthday.
Last picture taken of me and my Papa at my Senior Luau, Oct. 2007
I'm not going to lie, his passing was really hard on me. Like I said, I was just a month away from my 18th birthday and about 5 months away from my High School graduation. I was upset. But, I didn't show it. That's where I was wrong. I tried to be too strong when I should have just been mad, sad and let the depression go. But in a way, I'm glad that I wasn't too bad. I think that I came out a stronger person. Either way, I still miss him and I cannot wait to see him again in Heaven.
This is where my gratitude for the church comes in. I'm so glad for the teachings of the church, especially the Plan of Salvation and Eternal famillies. I am incredibly grateful that one day, not only will I get to see my grandpa today, but my children and my future husband will also get to meet him.
OK, now I just wanted to post a little blurb about some stuff that we talked about in church today. Let me just say that I am the youngest in my Relief Society class. I guess that's something everyone has to go through at some point though, huh?

Today, our RS president taught on President Monson's General RS meeting talk from General Conference last month. I didn't get the chance to read or listen to President Monson's talk, but hearing a lesson based off of it was great. I guess that the basic message that President Monson had was counseling the women not to judge. Personally, I think that our RS president was inspired to teach that message in our ward because we have a lot of problems with judgment and judgmental people in our ward. Having a lesson on not judging but only loving was a good thing.

In the talk, President Monson quotes Mother Teresa. I love Mother Teresa. She served God and she truly loved him. She was an inspired woman and she is an inspiration to me.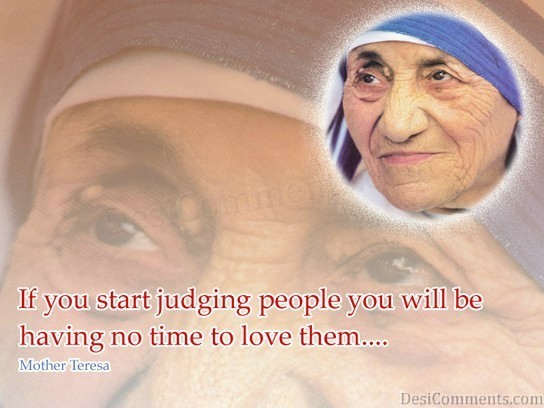 The lesson really made me look inward at myself and made me think about what I can do to change myself. I don't claim to be perfect, nor do I claim that I never pass judgment. That is definitely something that I need to work on, which is why I was grateful to have that lesson.
In our YSA class, we talked about repentance and becoming worthy. With the rededication of the La'ie Hawaii temple right around the corner, one of the things that has been a theme throughout the temple district and especially in our ward has been repentance. I always enjoy talking about repentance, just because it's something I'm going through right now and it's always good to be reassured that repentance is in fact a gift and not a punishment.
Well, those are my thoughts for the day. I hope that you all have a wonderful week!