One of the blogs that i absolutely loves does "Hoo Are You" Tuesdays. First of all, you guys know that I love, love, love answering questions about myself. And secondly, how cute are the little owls on the Hoo Are You icons? I adore owls. Anyhoo--haha, see what i did there?--here are my answers to this weeks questions. If you want to play, go ahead and link up at Night Owl Crafting!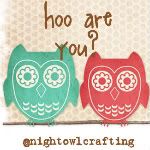 1. Do you ever burp out loud in private or public?
No, I don't! It's not that I think it's rude or anything, but more like I just don't have the ability to burp. Ever. It's so strange, I know, but it's true.
2. How often do you get sick each year?
Maybe 3 or so times a year. But if I count colds, sinus infections, and allergies...well, I lose count already!
3. Would you rather paint a room in your house yourself, or have someone else do it for you?
Myself! I think painting is so much fun!
4. If you get 30 minutes to yourself, what do you do?
Lay on my bed and just relax. 30 minutes is actually the perfect amount of time to just sit and think
5. Do you allow people to wear shoes in your house?
Well, I live in Hawaii where it isn't appropriate to wear shoes in the house. I grew up learning to take off my shoes at the door of someone's house. It's very cultural, I guess. So obviously, when people come to my house, they'd take their shoes off. No matter how dirty my floor is!
---
Here's another rad question meme thing. I adore question memes! Haha. This one is from Roots and Rings, who is another awesome blogger. Want to do her link up? Click the image below and find out how!
1. What is your favorite breakfast pastry?

I love glazed and sugar donuts. And donut holes! Homygosh, I love donut holes! I also love cinnamon roles, fresh out of the oven!
2. Were you ever in a Thanksgiving or Christmas play?

I was in both! Multiple times, actually. When I was in elementary school, my school always put on Thanksgiving and Christmas plays for the community. I was an Indian for a Thanksgiving play once, and an angel in a Christmas play.
3. What is your favorite clothing accessory?

Headbands? Are those a clothing accessory? Well, it should be because I adore headbands. Also, scarfs are cute too.
4. What is your favorite item of clothing?

Dresses. I adore dresses and skirts.
5. What is your favorite color and why?

Green in pretty much every shade. I don't really know why or when I started liking them. I think it's because it reminds me of Tinker Bell and I love TInkerbell.
6. What is your favorite type of Christmas cookie?

The peanut butter cookies that my tutu used to make for Christmas every year!
7. What is your favorite scent (food, perfume/lotion)

Man. I can't pinpoint the exact smell, but I like when boys smell good, or even when they smell somewhat sweaty. I also like the smell of baked goods, and brand new books.
8. What is your favorite household cleaner?

Pine Sol. The blue one.
9. When you were a kid what did you want to be when you grew up? And what did you actually grow up to be?

I wanted to be the person that drove the fire helicopters and dumped water on mountain fires. I also wanted to be a lawyer and an astronomer. And a momma. I am none of those at the moment, but I'd like to be a momma soon. Oh and I'm a teacher.
10. What is the last song or album you bought?

Taylor Swift's CD, Speak Now!
---
P.S. Check out this giveaway from Jen at Life Spelled Jen. It's her very first one and the things she's giving away are Cah-yoooteee!!!. Seriously, go and check it out!