Is it really that time again already?! Time for some Q&A today. And since I like to combine all my linky par-tays (haha, see what i did there? no? ...okay...) into one gigantic post, I've decided to call this section on Tuesdays "Tay Tuesdays!" 'Cause, my name is Tay...and it's Tuesday...and I'm answering questions about myself. ya'know? OK, well anyways...here we go!
First up this Tuesday is Ten on Tuesdays by Roots and Rings!
1. What are your plans for the holidays? Do you travel at Thanksgiving? If you celebrate Christmas, do you travel then, too?
This Thanksgiving I will be celebrating in Florida with my family! I don't actually have family in Florida, but we're going on a 7-day Disney Cruise right after Thanksgiving, so we're going up a bit early. We'll be in Florida/Disney World on the actual Thanksgiving day!
2. How do you make the plans for the holiday? If you have a significant other, how do you decide which family to visit?
Well, we don't really have actual plans. Usually, we spend it all together. When I was younger, we used to go to Thanksgiving Dinner at my Tutu's house, that's my mom's grandma, but not anymore.
3. Do you have your Thanksgiving meal at lunch or later in the day?
Lunch, and then of course, the left overs for dinner!
4. Do you have a favorite Thanksgiving tradition?
Going to my Tutu's house use to be my favorite tradition, but we don't do that anymore :(
5. After a big meal do you lounge around or get up and take a walk?
Lounge, of course!
6. Do you shop on "Black Friday" or do you avoid it?
I haven't ever been Black Friday shopping, but I would so do it! Maybe later on in life though, when I have my own family, and a husband, and my own income, ya know?
7. When do you usually finish your Christmas shopping?
We got our Christmas shopping for everyone done this year!
8. Do you and your significant other exchange gifts? Is there a budget?
No S.O. so no gift exchange! haha.
9. When do you decorate for the holidays?
After thanksgiving.
10. Do you go "all out" with the decor or do you keep it simple?
SImple. But one day, when I have my own house, I'd like to do more! We use to go all out when I was younger, like huge tree, cute christmas village figurines, the whole 9 yards, but we haven't done that in a while....
---
Next up is Hoo Are You? Tuesdays via Leslie at Night Owl Crafting.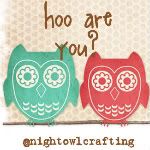 1. Name 5 things you are grateful for!
Family, the gospel in my life, a good education, the fact that I have a house to live in and food on the table, & friends.
2. What is you favorite dish at Thanksgiving dinner?
Stuffing! I looooveeee stuffing. And mashed potatoes, especially the lumpy kind!
3. Do you have any family traditions for Thanksgiving?
We use to go to my Tutu's house for thanksgiving every year, but that kinda stopped after she passed away. Kinda makes me sad :(
4. Are you staying home or traveling for Thanksgiving?
This year, we're traveling. Actually, we'll be in Florida on Thanksgiving Day! My family is spending a few weeks on the mainland (Florida--Disney Cruise, Disney World, and Wizarding World! & Vegas!)
5. What else do you do on Thanksgiving day besides eat?
Watch movies, sleep, watch football, sleep. Yeah, mostly sleep!
---
If you want to play along, just go ahead and click and link up!
In other news, we leave for Florida TOMORROW! I am so excited it's crazy. This is my first time going to Florida and we get to go to Disney World AND Wizarding World of Harry Potter. I'm way excited about both, but of course I know I'm gonna go absolutely nutso in HP World. Especially since I just saw Deathly Hallows. After Florida, we're going to Las Vegas. It's my first time going there too, which is just crazy since pretty much every Hawaii person considers Vegas the "9th Island." I'm pretty stoked! We're gonna be gone for three weeks, but I'll try updating as much as possible.
Today, it's all about finishing up some homework, washing and putting away all my bedding, and packing those last minute items. So, I'm off for the day!

XOXO,