This week has seriously been one of the busiest weeks of my life!
I can't imagine what the upcoming weddings
& future baby showers will be like!
I promise I'll do a total update post sometime soon,
I'm just too tired and busy right now!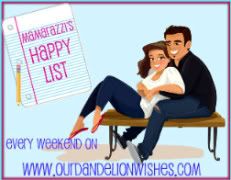 Here are some things on my happy :) list!
1. Friends that are like family!
2. my gym membership! i'm run/walking a better mile time than i did in HS. it's not the best time, but I'm working on it! (I'm down to a 12 minute mile from a 16 minute mile on Tuesday!)
3. Relaxation after a long week.
4. Being appreciated.
5. Having a testimony of the Gospel!
6. The announcement that Mamarazzi just made on her blog! I'm so excited, I can't wait!!